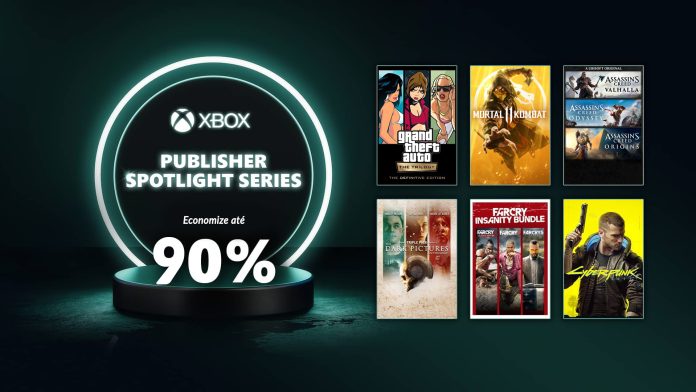 Quem ai não curte uma boa promoção com preços lá em baixo? E se essa promo tiver jogos incríveis, melhor ainda. Nesta semana além do Deals with Gold, temos também as ofertas do Publisher, com jogos dedicados a nova geração de consoles, e vários bundles com títulos icônicos. Os descontos vão de hoje até dia 17. Em alguns jogos, o desconto permanece até dia 20 de Maio.
---
Se você comprar algum produto ou serviço de algum link dentro do nosso site, a Central Xbox pode ganhar uma comissão. A Central Xbox é um parceiro da Amazon, Rakuten e de outras afiliadas.
---
Seja membro
VIP
da
Central Xbox
no
YouTube
e tenha acesso a conteúdos exclusivos, além de seguir no
Twitter,
Instagram
 ou 
Facebook
para ficar por dentro de todas as novidades sobre
Xbox
. Vale lembrar que você pode assinar o
Xbox Game Pass
Ultimate
por apenas
R$5.
Clique aqui
e assine! *Válido apenas para novos assinantes. O 
Xbox Game Pass
Ultimate
é o serviço por assinatura que une
Xbox Live Gold
que ter permite jogar online, bater papo com amigos, resgatar os jogos do
Games with Gold
, ter descontos exclusivos além de muitas outras vantagens, com o
Game Pass
que é a
biblioteca de jogos
por assinatura, onde você terá disponível uma grande quantidade títulos atualizados todos os meses, incluíndo todos os exclusivos do Xbox no lançamento. Além disso assinantes Ultimate tem acesso ao
XCLOUD
que te permite jogar uma enorme lista de jogos através de um Tablet, Smartphone, Navegador ou Aplicativo para Windows 10 e ao catálogo da
EA PLAY
, com mais de 70 jogos da
Eletronic Arts
.